University of Malta
Department of Psychology
(Msida MSD 2080)
Presentation by Dott. Lorenzo Bracco
Date: Tuesday 12th December 2017. Time: 12pm – 2pm
Venue: Psychology Lab
Dott. Bracco will present an alternative approach to understanding anorexia nervosa in females. His presentation is based on more than 100 cases of women diagnosed with anorexia nervosa collected over the last 24 years. He will present his theory relating to blood type and trauma.
Bio sketch:
Dott. Bracco is a medical doctor and psychotherapist and has a degree in orthopaedic medicine. He is a member of the French Federation of Psychotherapy and Psychoanalysis (FF2P, France) and the European Association of Psychotherapists (AEP), headquartered in Vienna, where he was awarded a Certificate of European Psychotherapy. He is a member of the European Register for Psychotherapist, has an International Diploma of Gestalt-Therapy from the Gestalt school of Paris (EPG, Paris), and a Master in Brief Strategic Therapy. He is also a Somatic Experiencing® Practitioner and NeuroAffective Relational Model ™ (NARM) Practitioner .
His personal psychotherapeutic approach embraces the influences of a classic Freudian analysis; Gestalt therapies; and family and systemic constellations. Dr. Bracco has studied traditional Chinese medicine and has acquired experience in Tibetan medicine in Tibet and India. He has experience with rebirthing techniques, primal therapy and codependency training and Seitai. In addition, for over thirteen years he has been integrating a therapeutic supervision process in mind–body psychotherapy . In the last ten years he has been on a personal journey of discovery and research with Dr. Laurence Heller, creator of NARM .
His book "ANOREXIA, The Real Causes: Blood Types and Trauma" won the Cesare Pavese Award for Nonfiction Medical Writing.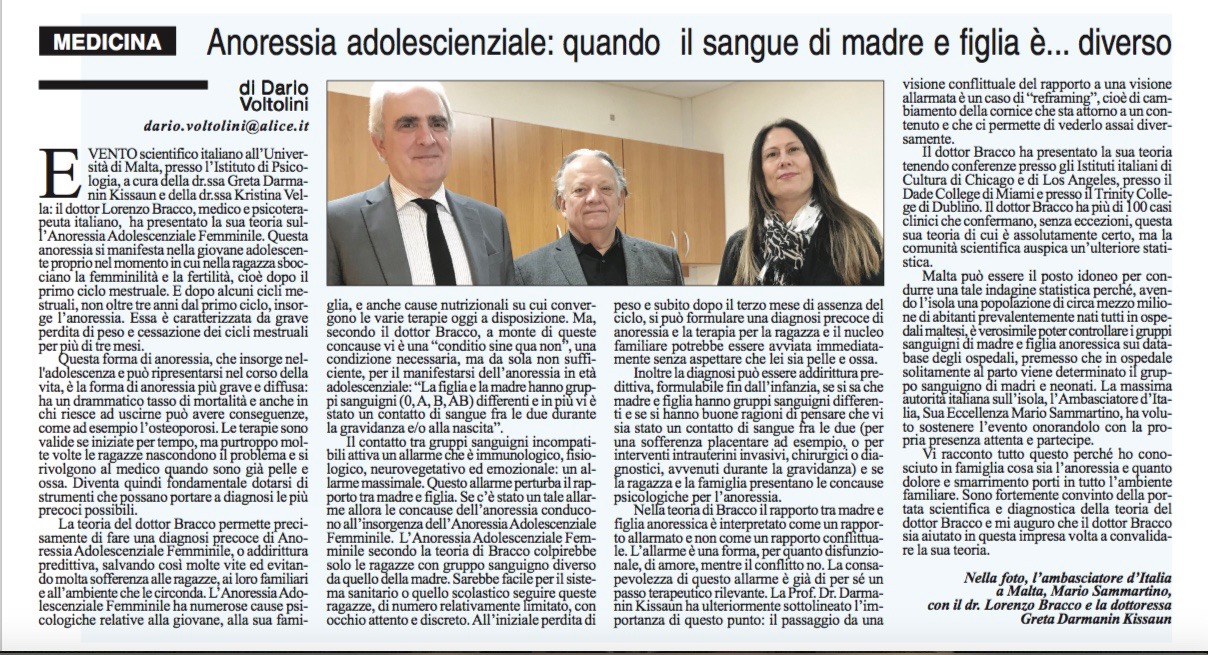 MAGAZINE    OGGI7    21 GENNAIO 2018